What IS it about sunflowers?
Sunflowers: one of my favorite flowers.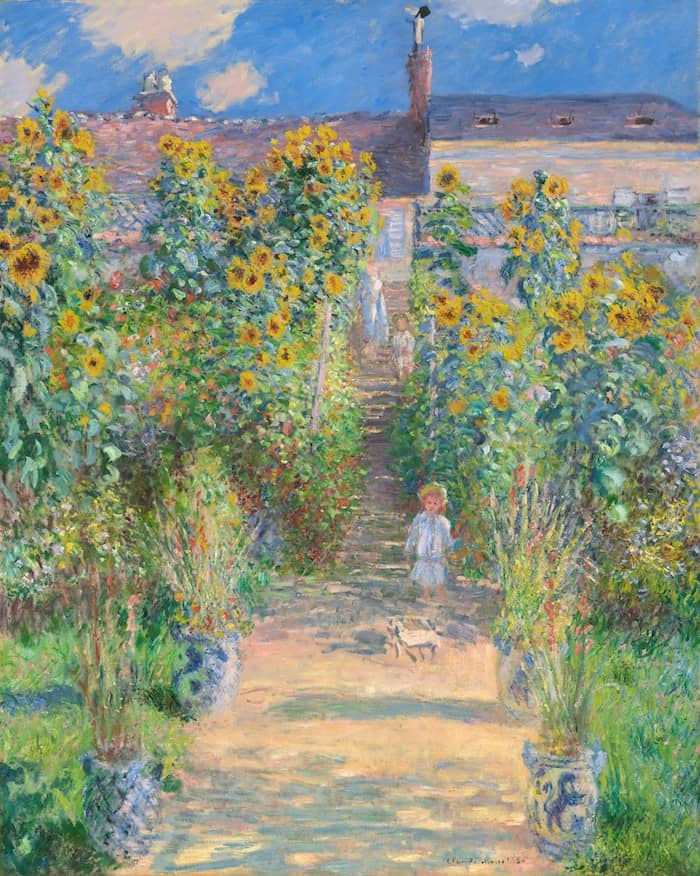 As shown in this painting by Claude Monet, they grew along the path to his garden at Vétheuil.
Monet also painted a vase loaded with sunflowers. This was about seven or eight years before Vincent Van Gogh painted his series of sunflowers in vases. 
As an observation, for any of us who actually arrange flowers in a vase, this enormous bouquet of sunflowers would be unlikely to balance in this small narrow vase. Artists frequently overload their bouquets to make them look abundant.
And, I know for me, it's more fun painting the flowers than the background, so why not add another three or six? :-)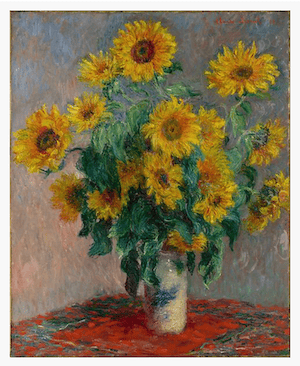 Some of Van Gogh's most famous paintings were his sunflowers.
He created numerous paintings of sunflowers with many additional sketches. Most were painted between 1888 and 1889.

"In November 1888, Van Gogh wrote: 'Gauguin was telling me the other day—that he'd seen a painting by Claude Monet of sunflowers in a large Japanese vase, very fine. But—he likes mine better. I'm not of that opinion.'"
Gauguin and Van Gogh obviously discussed sunflower paintings; theirs and those of other artists. Gauguin even did a painting depicting Van Gogh painting sunflowers.
The website of the Van Gogh Museum discussed the background in the painting, an element those who are looking at the sunflowers may overlook. Yet it articulates an important difference in the point of view between the two grea artists. And these creative differences ultimately led to extreme difficulties in their relationship: 
"The landscape in the background is... fictional: unlike Van Gogh, Gauguin liked to work from his imagination. They often argued about this."
Here is a popular blog post of mine on artists' Point of View.
Gauguin believed that sunflowers were "totally Vincent."
Van Gogh hung two of the paintings in Paul Gauguin's bedroom when Gauguin stayed for a couple months in the Yellow House with Van Gogh .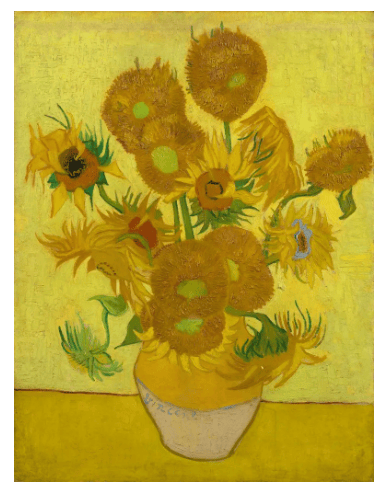 Van Gogh was cheered and uplifted by light and brightness. (Aren't we all?) Sunflowers exemplified "gratitude" to him.
Throughout his ten-year career, Van Gogh painted sunflowers repeatedly in different arrangements and settings. The shapes, colors, and cheerfulness of the modest flower appealed to him. And many of the paintings featured the bright flowers in a clay pot. 
He associated its yellow color with sunshine, the south (in Europe), and Christ, the light of the world.
In letters to his brother, Theo, Vincent Van Gogh wrote about the yellow of sunshine, and "how beautiful yellow is!" He even lived in a yellow house and featured intense passages of yellow in many of his paintings.
Most of Van Gogh's sunflower paintings were painted in Arles. For him, it had something to do with the famous magical atmospheric light in the south of France.
One of the typical Van Gogh sunflower-in-a-clay-pot paintings can be seen in the US, in the Philadelphia Museum of Art.
Vincent van Gogh painted this luminous image of sunflowers from memory, in the depths of winter in 1889.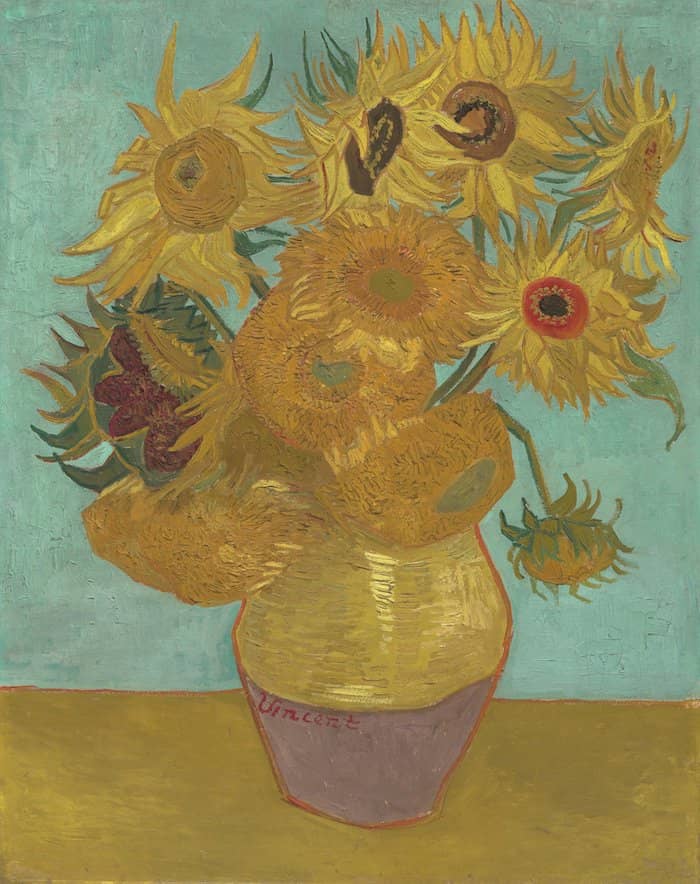 ​
Another sunflower painting is of spent, dry sunflower heads on their side. It is from the collection of The Met, New York. This was one of the paintings owned for a while by Paul Gauguin.
The whole mood of this painting is different than his sunflower-in-a-clay-pot paintings. Not only is the subject matter decidedly not sunny and not  bright, but the background is a somber blue.
This blue with this drab golden color represent a complementary color harmony. That means these two colors (blue and gold) are across from each other on the color wheel. Frequently, as in this case, the use of a complementary color harmony creates a tension between the fields of color.
Our eye moves back and forth to resolve the tension. It doesn't have the same energy as the sunflowers as a bright bouquet.
In addition, this painting has a very narrow range of value (lightness and darkness). Most of the painting has a similar saturation of color. 
Both of these choices, of a complementary color harmony and a narrow value range--whether conscious or intuitive-- create a moody story. 
​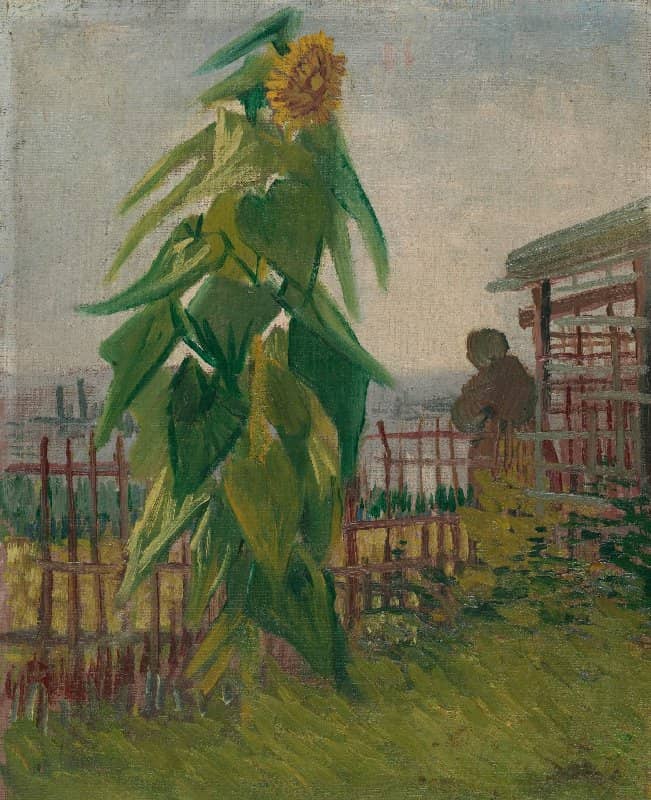 Van Gogh is noted to have said, "I am working with the enthusiasm of a man from Marseilles eating bouillabaisse, which shouldn't come as a surprise to you because I am busy painting huge sunflowers."—Vincent van Gogh (I can't find the original source for this quote.)
Well, I too am working with the enthusiasm of a woman enjoying Caprese salad in summer because I also am painting sunflowers!
A student of mine recently sent me a photo he had taken of a field of sunflowers—such a glorious scene.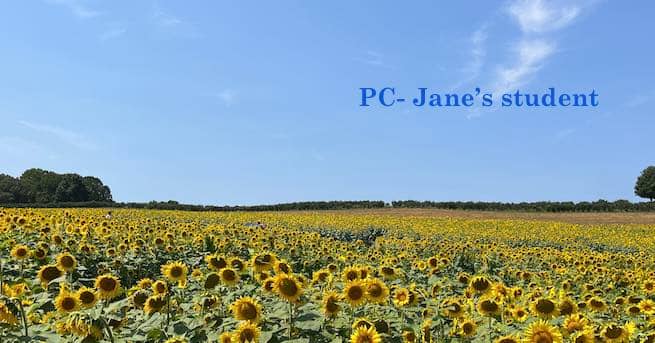 I coached him through how to paint a field of sunflowers.
Each of my private students is different. With many students we work "eyeball-to-eyeball" via Zoom. We take it step-by-step together. Other students want me to demonstrate the techniques as they watch, and they will do the painting on their own between our lessons. Other ways work, too.
​
​
Here is my painting from his photo. I used watercolor paint, watercolor pencil and watercolor crayon.
​
This exuberant, sunny paintings turned out to be a contemporary style in a very loose watercolor technique. Afterward, I was inspired to buy some sunflowers for myself.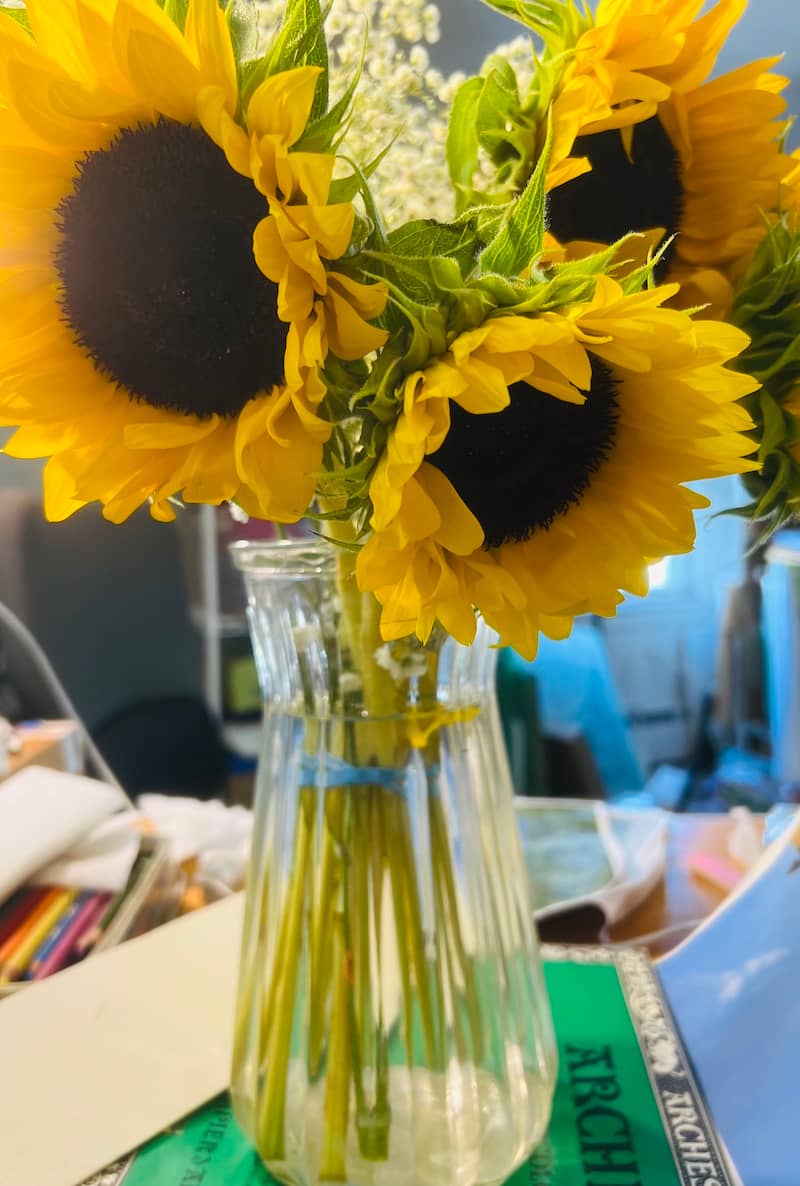 I love having fresh flowers in front of me to paint a more specific, realistic interpretation of a sunflower.
​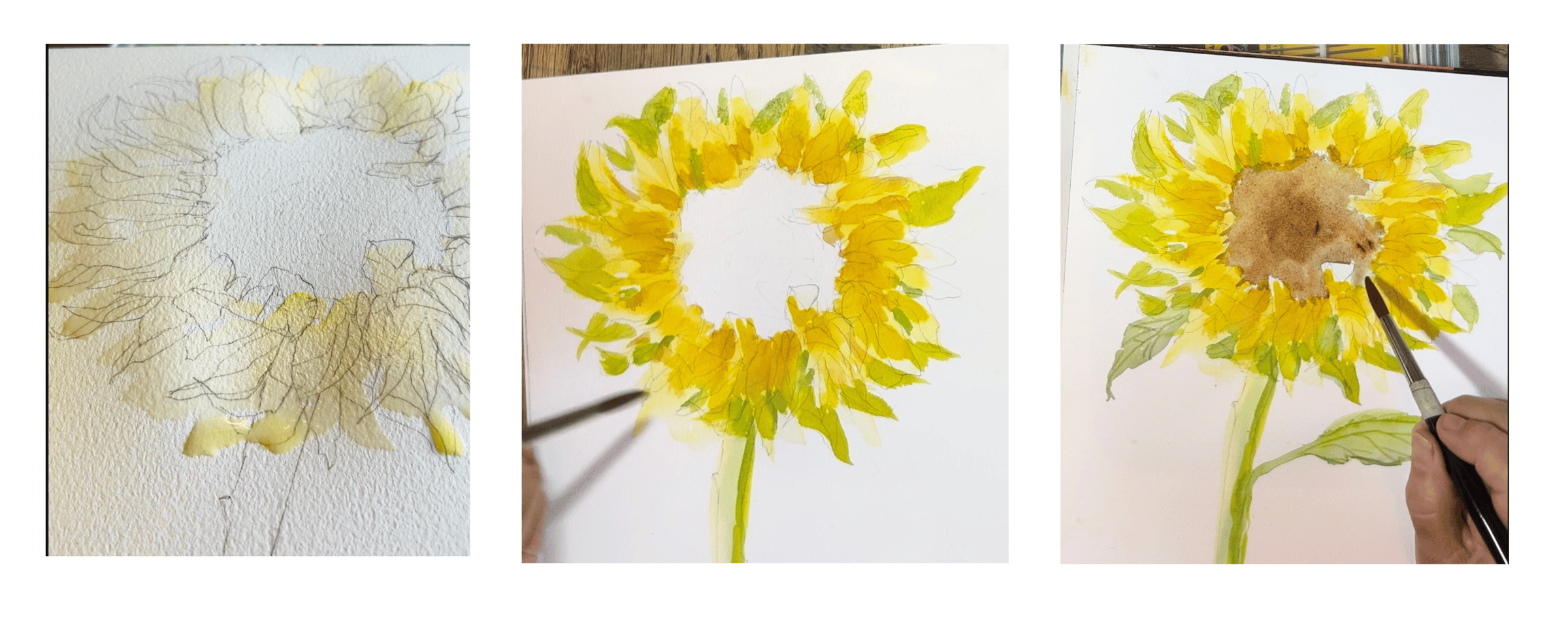 I started with a detailed drawing. Often I just jump in without a drawing. But the flowers were so exquisite, that I wanted to luxuriate in the details. I studies the curled tips of the leaves and the chaotic crossing of the yellow petals.
I pondered the awesome (truly awesome) presentation of the Fibonacci mathematical formula for how the seeds in the center of a sunflower spiral outward. And in sunflowers, they actually spiral in two opposite directions from the center.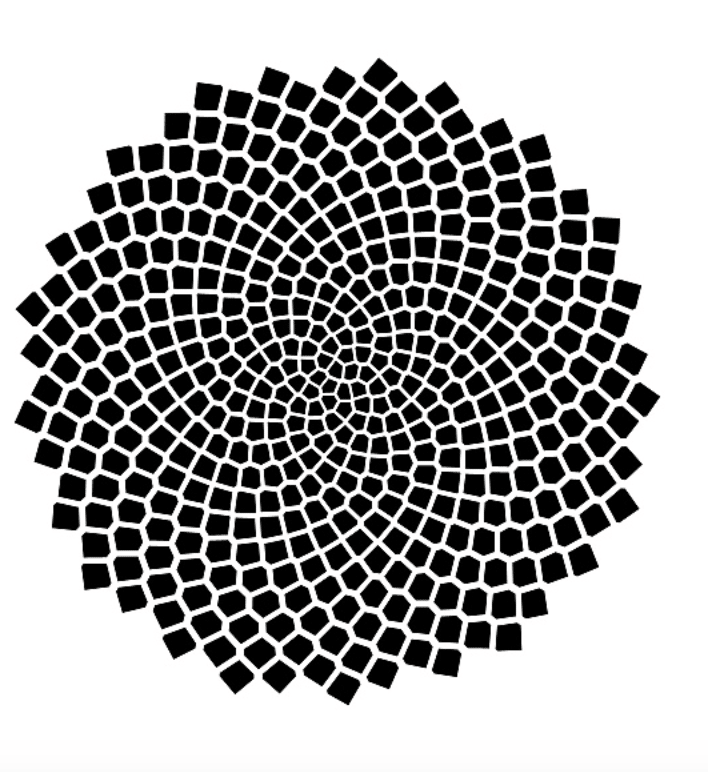 That's what gives sunflower seed that squished cube shape; one side leans one way due to the clockwise spiral, and the opposite side leans the other way. They are called "disc-shaped" but that doesn't do justice to the magic of their shape as contained in the head of a sunflower.
Next, I was inspired to create a video while I was painting this complex extraordinary (yet ordinary) flower.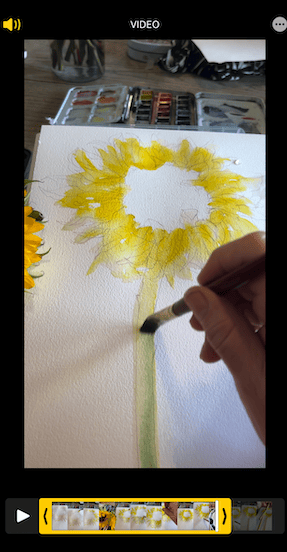 Sunflowers are living solar panels; always following the sun and absorbing the energy.
Those concepts are inspirations to us, too, aren't they?
How do you feel about sunflowers?
​
​
Did you like this information? All of my blog posts start as an e-letter and my next e-letter is due out soon. Don't miss out!
---